Healthy Living Healthy Lives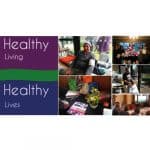 Business Name:
Healthy Living Healthy Lives
Short Business Description:
We believe that the best way to be part of a community is to be involved in it! Health & Well-being Projects For Mind, Body & Soul. Chat – Connect – Create
Long Business Description:
Healthy Living Healthy Lives
Our Vision:         Health & Well-being for all
Our Mission:      Projects & Services that help people achieve healthier lives
Our Approach:  Driven by our four foundational principles
Our Values:        To show love & kindness to all members of our community
Our approach is driven by our belief in our four foundational principles:
We believe improved self esteem and self confidence is central to personal well-being
We believe people do not want a hand out – they want a hand up
We believe each person's journey is unique and we tailor our projects to their needs
We believe to be effective, a development programme should encompass all four foundations
Current Activities
Craft – Chat – Games Session
Join us at The Office Love Lane Every Monday 2-4:30pm
Refreshments all for just £2 per session. Come and meet new people and make new friends and connections in a fun and informal environment.
Sing Ongar Sessions
Join us at The Office Love Lane Every Tuesday 1-2.30pm
Singalong for all ages and abilities. Singing is good for health and well-being so why not join us as we sing wartime favourites, show tunes, pop and more!
We work outside ongar, with the homeless in London Borough of Redbridge at The Welcome Center in Ilford. Providing healthcare and well being projects, hair cuts, chiropody, sports and more
Send Message to listing owner