Bubbles of Ongar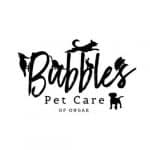 Business Name:
Bubbles of Ongar
Short Business Description:
Your local High Street Pet Shop for all your animal needs. Food and accessories, ranging from beds, clothing, leads and collars, dog whistles and clickers, pet blankets to travel carriers.
Long Business Description:
Bubbles of Ongar provide pet parents with a wide range of natural and healthy foods, that will give your pets a complete and balanced, nutritious diet.
Our customer and pet friendly store, has a wide selection of natural, Biologically Appropriate Raw food (BARF) and high meat content ranges, that caters to all budgets.
Brands such as Applaws, Barking Heads, Canagan, Country Hunter, Eden, Forthglade, Fish4Dogs, Gentle, Lily's Kitchen, Naturediet, Natures Menu, Natural Instinct, Simpsons, Tribal, to name but a few. Bring huge health benefits to your dogs and cats, helping to ensure that they are getting all the vital vitamins, minerals and nutrients that will keep them fit and healthy, throughout their happy lives.
We also have a large selection of toys that will provide mental stimulation for your pets, whilst play will also provide physical benefits, as well as strengthen the bond you have with them.
Send Message to listing owner