3rd Ongar Scouts • Fundraising
The 3rd Ongar Scout Group will be celebrating by hosting a "Garden Party" in their grounds. Join them for food and drinks, pull up a chair and enjoy the party! They are continuing their fundraising to build a new Scout Hut. The 3rd Ongar Scouts was lucky enough to be a beneficiary of the first Ongar Festival and last year also held a garden party raising over £600. The 3rd Ongar Scouts are hoping to do even better this year raising money for our 'Big Build'!
The Scout Hut
The current Scout Hut is based in Love Lane in Ongar.  The hut itself was left over from the First World War and is now over 100 years old.  It has acted as our HQ for the past 50 something years and in spite of numerous repairs and lots of upkeep it has really had its day now, seeing more wildlife in it than young people! The wooden windowless structure has poor toilet facilities, no disabled access and it is not really of a sufficient standard to host a sleepover.  So we've decided it's really time to move on and think BIG! Our ambitious 'BIG BUILD' project is to raise enough money to build a new headquarters to take the 3rd Ongar Scout Group into its next 100 years. We want to have a secure building with proper disabled access, a fully equipped kitchen, a big bright hall to include a climbing wall, shower cubicles, toilet facilities meeting room and storage and we'd like the community to be able to use it too.

We have a plan, but in the meantime we would like to welcome you all to visit us in the Scout garden and enjoy tea and cake and scones. We will have a big seating area under gazebos and a few side stalls to keep you entertained. We would be delighted if you could join us!
But what has Scouting got to do with VE day?
Without everyday adventures, the world would certainly be a less interesting place and, if it wasn't for the talent and originality of one man, the Scout Movement might never have existed at all.  This man was Robert Baden-Powell (1857-1941), a soldier, artist, actor and free-thinker. Best known for his spirited defence of the small South African township of Mafeking during the Boer War, he was propelled to further fame as the Founder of Scouting.
BP was inspired by the initiative shown by boys under pressure during the siege of Mafeking, and he realised that young people had huge potential that was often left untapped. Already thinking of developing a training programme for young people in Britain, he was encouraged by friends to rewrite his handbook for soldiers (Aids to Scouting) for this younger audience.
And so in 1907 Baden-Powell held a camp on Brownsea Island in Poole, Dorset, to try out his ideas and he brought together 20 boys from a variety of backgrounds. The success of the camp spurred him on to finish what would become a classic book of the 20th century. 'Scouting for Boys' was published in 1908 in six fortnightly parts at 4d a copy. What had been intended as a training aid for existing organisations became the handbook of a new Movement, which secured the royal seal of approval the following year when King Edward VII agreed to the introduction of the King's Scout Award.
It was a global phenomenon. As numbers grew, it soon became clear that young people of all ages and in every country wanted to get involved in Scouting. Wolf Cubs came along for younger Scouts in 1916, followed four years later by Rover Scouts for an older age range.  1920 was also the year of the first World Scout Jamboree. At London's Olympia, Scouts from across the world gathered to celebrate international unity and the growth of their great Movement.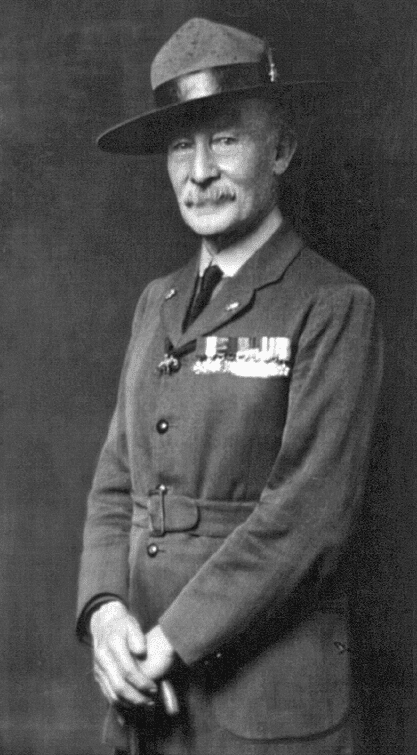 Lord Baden-Powell died in 1941 but his legacy continued. Scouting became a byword for adventure, usefulness and global friendship. As the Movement spread across the world, Scouting continued to evolve in the United Kingdom.
Following heroic work during the Second World War when Scouts acted as coast guards, couriers and stretcher bearers, members continued to show they were truly able to live their motto 'Be prepared.'  Around 53,000 Scouts were trained to undertake over hundred and seventy National War Service jobs by the end of 1940 so as we look at VE day, we, as Scouts have plenty to celebrate.
Scouting is currently active in 216 countries and territories, with a global membership of over 31 million, male and female. Two thirds of the international membership are in developing countries. In Scouting, language, religion and culture are not barriers.  Everyone shares a Scouting spirit, doing their best, working with others, having fun and adventure and building skills for life.
Now, back to this Scout hut…
The 3rd Ongar Scouts at one time met in the Castle rooms in Castle Street, but the scout troop had to close in 1953 as it was left without a leader.  In 1957 it was started up again and by 1961 there was talk of finding a permanent home for the thriving group. Two huts were purchased which had been the garrison engineers' offices at Warley Barracks during the First World War.
Here is a quick extract from Aspects of the History of Ongar. This part was written by Peter Evans who became Group Scout Leader of Ongar.
"Volunteers dismantled the hut interiors, and wives and boys came to pull out nails. It took a team of skilled builders a week to dismantle the huts".  
The Parish Council said that the Scouts could use a plot of land at the corner of the sports field off of Love Lane for a peppercorn rent of just £1 per annum and that's where we still are today.  As Peter Evans writes, " From this point onwards, the story of the 3rd Ongar Group's headquarters becomes a magnificent saga of enthusiastic cooperation between devoted volunteers, expert scroungers, generous donors, eager helpers, and professionals working on a largely non-profit basis. Foundations, brickwork, erecting roofing, felting, lining, partitioning, flooring, painting, papering, decorating, furnishing, laying the path, erecting the fence, levelling off the site, and making everything spick and span for the official opening – these tasks consumed hundreds of man hours of dedicated work.  The whole enterprise was a vivid and rewarding example of what a community can achieve when inspired by a few firebrand enthusiasts. The new headquarters was opened on 29th September 1962… the person universally acknowledged as the prime motivator and enthusiast was Dr Ted Hatfield, an Ongar GP.
From the moment I became a Cub leader I couldn't believe the hut was such a dreary place.  It's so dark because it has no windows and so I asked the committee if we could fundraise for windows. They were concerned over vandalism which unfortunately we've fallen victim to so many times. The committee then decided we should aim for windows and shutters but this would be much more expensive.  In the mean time the roof was leaking and mice and rabbit droppings were everywhere and so at the end of 2014 I approached the committee with a dream…
A new headquarters to serve the Scouts of Ongar for the next 100 years and a place where the community could enjoy being.  The committee agreed and I offered to drive the vision and make it into a reality
We've found some enthusiasts from a heritage airfield site at Stow Maries who would like to use the current hut in their museum. This is a great bonus as we will not have to pay to have the building raised to the ground, and those who are a little sentimental can live with the idea that the building of so many memories will go to a good home. When the time comes the people from Stow Maries will dismantle the Scout hut and transport it to its new venue.
We have a design for the new hut. As well as our own fundraising efforts we've been lucky enough to capture the imagination of lots of local groups who have donated a lot and we thank everyone who has! These donations have really spurred us on.
As Scouts, we are always trying to make a positive impact in our community and we hope to provide even more young people in the area with fun, adventure and a sense of community spirit and team work in a brand new headquarters. We hope that you'll join us in some of our future events and on VE day to help us to achieve this dream.